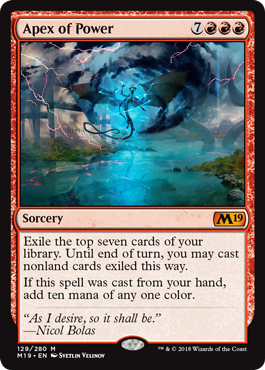 Apex of Power
Sorcery
Mythic Rare
Exile the top seven cards of your library. Until end of turn, you may cast nonland cards exiled this way.
If this spell was cast from your hand, add ten mana of any one color.
--------------
"As I desire, so it shall be."
-Nicol Bolas
For a ten mana card I expected it to either let you cast them without paying their mana cost or at least let you add ten mana in any combination of colors...
I mean, I guess you can hope you hit
Omniscience
in your top seven cards?