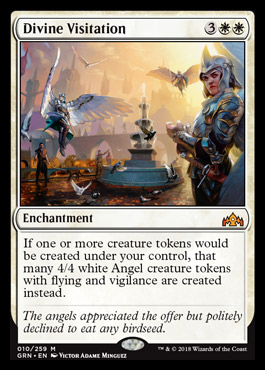 T3:
Legion Warboss
T4:
Leonin Warleader
T5: Divine Visitation, swing for 16+ (12 in the air)?
Almost certainly not worth it. Can't wait to try it.
When I first saw this card, I really wanted to make a deck with it. I loved Procession decks, and this seemed to be a variation making tokens more deadly. But I have two concerns about this card. First, it is 5 mana. You want an impact card at 5 mana. Now, in the above scenario, this can pay off T5, so that concern is partially mitigated. My main concern though, is that the ability does not stack. Each procession after the first was a massive improvement. With this card, additional copies do nothing for you. So, does it provide enough value to build a deck around, knowing you will have 3 dead cards in your deck? Maybe, we will have to see if the cards are there. The other side is are there decks that generally produce enough tokens where this would be a good 1-2 of as a supplement to that deck? Probably.
Anyway, I am sure I will try it because it just looks fun.