I don't know how to evaluate Camaraderie. It is one of those cards that my gut says "well, this is too expensive. It costs 6 AND it requires a strong board state? Worthless."

And then there is this other voice that says "Holy ****, that effect is amazing. If you resolve it, you'll absolutely win."

If we get another mana bug, I have a feeling this thing sees competitive play.
Comaraderie looks to be one of those cards that is win-more...but Haven brings up a good point with Song of Freyalise. I don't think you are casting this in reality prior to turn 4 and most likely not until turn 5 with some real benefit, but it is very doable. But other than to break a stalemate (in which case the Song of Freyalise isn't really helping when tapping your creatures for mana), why not just attack and win with some other cheaper and more versatile spell? Along with that, yes, you get some life, cards, and all your creatures get +1/+1, but what is the rest of your deck doing?
Building a board that likely has a lot of 1 toughness that doesn't get wiped. The whole crux of the selesnya plan is building this in a standard with:
Settle the wreckage
cleansing nova
Urza's Ruinous Blast
Plague Mare
Phyrexian Scriptures
Golden Demise
Goblin Chainwhirler
The First Eruption
Radiating Lightning
Shake the Foundations
Fiery Cannonade
Star of Extinction
(yeah its unlikely)
Path of Mettle
If the opponent allows you time to build and no mass answer to the horde...
Dorks or
song of freyalise
into lots of tokens/creatures then...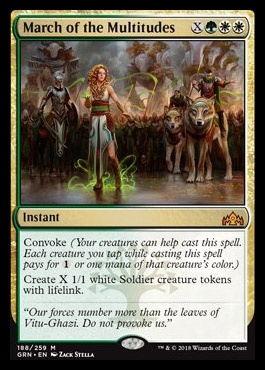 into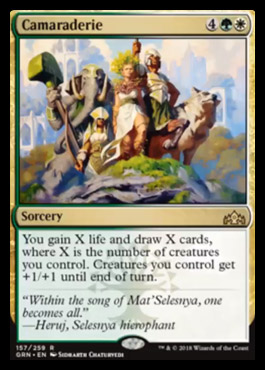 Profit $$
The deck needs cards like
Heroic intervention
Now this on the other hand...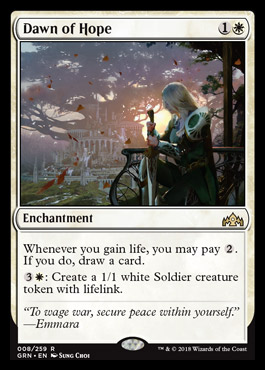 Dawn of Hope
Enchantment
Whenever you gain life, you may pay
. If you do, draw a card.
3W: Create a 1/1 white Soldier token with lifelink.
The lifegain deck has a new payoff. I think
Fountain of Renewal
+ Dawn of hope will be pretty good. And there is some new angel making enchantment that will also like this guy... Lifegain angels. It's like wizards knows what I want to build.