Ok so I got in, I spend most of my gems on Guilds of Ravnica and a couple more on DOM, I got lucky and opened 2 History of Benalia, 1 Aurelia one shock land, one Cliftop and one Tajic... YAAAAAAY!!!!! is like if WOTC wanted me to build my Boris Angels... so I build something with that... but it seemed to fragile so with a little help from magic duels helper... -thanks buddy- I tried a bunch of different builds without burning my WC and after some intensive deckbuilding process I figured out what I wanted to do... and man this deck is frigging insane the win rate after 20 or so games is 80% -way to early numbers but I do think it might settle on 70%-, I´m loving it so much, I guess most people don't have nearly that many rares yet... -coz is day one you filthy Cucho- but non the less I think I´m onto something with the deck, the best part is that it has a lot of common cards with the Keld deck and the more aggro approach so more fun to come...
The pile is relentless, and it has a lot more game vs control with Swift blade and Tajic than my previous Orzhov pile, I´m thinking on Ajani next to pump the Mentor guys but I´m not sure if it is the right move.
Some fun interactions
Curving out for t5 win
Tajic + Shalai... turns off red spells for good
Response Resurgence is a booooomb! with history of Benalia or a couple of flyers that card is insane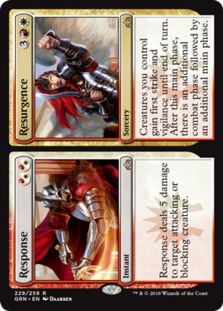 Deafening Carion lifelink mode and Resplendent Angel...
True fire Captain is there to mentor the angels...
EDIT: and she sucks... I will swap her for Tajic and another Aurelia when I have the WCs
Finally one decent looking pile all thanks to my man drcrawx
Creature(21):
4 x
Swiftblade Vindicator
4 x
Resplendent Angel
4 x
Tajic, Legion's Edge
3 x
Shalai, Voice of Plenty
3 x
Aurelia, Exemplar of Justice
3 x
Lyra Dawnbringer
Instant(2):
2 x
Response // Resurgence
Sorcery(2):
2 x
Deafening Clarion
Enchantment(10):
2 x
Ixalan´s Binding
4 x
Seal Away
4 x
History of Benalia
Lands(25):
11 x
Plains
6 x
Mountain
4 x
Sacred Foundry
4 x
Clifftop Retreat
Sideboard ... don't know yet I have to feel a little more the meta.
Ideas or suggestions are always welcomed!